Evangelical-Lutheran parish "Terijoki"
All that the Father giveth me shall come to me; and him that cometh to me I will in no wise cast out╩ (John 6:37)
Evangelical-Lutheran parish "Terijoki" is one of the two Christian churches in the city Zelenogorsk. Main liturgy, including holy Eucharist (Holy Communion) is held every Sunday from 11.00 until 12.30 in the morning. Terijoki parish belongs to the episcopacy of the Evangelical-Lutheran Church of Ingria. Central cathedral of Church of Ingria is situated on Bolshaya Konyshenaya Street opposite DLT (market). Evangelical-Lutheran Church of Ingria inherited traditions of the Scandinavian Lutheran church. For this reason, the church has Episcopal administrative system.
Bishop
At present the Episcopal office is carried out by Rev. Arri Kouggapi, who was elected a bishop by Synod of ELCIR and ordained according to the norms of the apostolic ministry in 1995. More information about the church of Ingria, one may get at: http://www.elcingria.spb.ru
Lutheran church building of the parish "Terijoki" is always open on Sundays from 11.00 until 16.00 and Saturday from 16.00 until 18.00. In summertime, the church building is also open on other working days from 12.00 until 18.00. It is open for everyone so that anyone might enter and get private place for prayer time. In case if a man has got any needs or desire to make confession one may talk with a priest or his helper (deacon, catechist).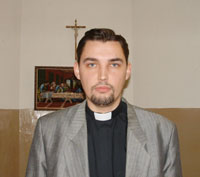 Ministers
Senior priest of the parish (presiding minister) is a deacon Alexander Asonov, who was installed to perform this office in the parish on grounds of Church Synod decision, which was issued on 6th of December in 2002.
Besides Sunday Liturgy (Holly Mass) in the parish of Zelenogorsk the occasional rites and social work are permanently carried out. Every month there are concerts of classical music held in the church building (see information at this page). Besides, there is an active deaconry work done in the field of spiritual and material help for those who are in need. Youth work is always an important part of the church life that is why we also do our best in this field through working with young men.
Below is a parish schedule
Main liturgy (Holy Mass) - every Sunday at 11.00
Evening service (Vespers) - every Saturday at 17.00
Bible studies - every Saturday at 16.00
Choir rehearsals - every Monday at 16.00
Choir rehearsals of Sunday school children - every every Sunday at 10.00
Sunday school - every Sunday at 12.00
Youth work - once a week (bible studies, trips, excursions etc.)
Concerts of classic music - twice every month (information see at this page)
Occasional rites - on demand
Christian fellowship - every Sunday at 12.30
Individual confession - every Sunday at 10.00 and on demand
Historical review of the Terijoki parish you can find here.
An article about Terijoki parish from "Saint-Petersburg Times" can be viewed here.
Telephone and e-mail of the parish "Terijoki":
231-85-70, fax 231-85-70, terijoki@priest.com