Where is it ?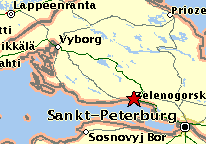 Zelenogorsk is a suburb of St.Petersburg, located in a gorgeous part of the Karelian neck on the shore of the Gulf of Finland, 50 km away from St. Petersburg. Formally, it is an integral part of the St. Petersburg recreation area. Used to belong to Finland prior to 1939 under the name of Terijoki.
History
Virtual
excursions
Would you like to walk around Zelenogorsk to find what is still exist from old Terijoki ? Not so many places, but there are something to look and to remember..
From the railway station to the Orthodox church

Continuation of the excursion. Along Viertotie and Antinkatu
Novikov's villa
Foto galleries
Fine collection of historical and modern photos of still existing buildings and historical places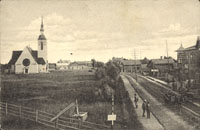 New materials from 29.05.04 - unique postcards with views of Terijoki, Kellomaki and Kuokkala before 1917 from the collection of National Library of Russia
Maps
Maps pf Terijoki and environs before 1917, Finnish maps of 1920-30 and present day maps
Terra Incognita
Mannerheim Line. Summajarvi.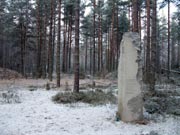 30th of November 2004 will be the 65th anniversary of the Winter War begining. We went through the part of Mannerheim Line in Summajarvi and present to you our photo report.
We are sorry that comments are in Russian only for the moment, please use Babelfish for translation, but all photos are self-explained
City events, info
City Festival-2007
28 July 2007 - Annual City Festival, Zelenogorsk/Terijoki is 459 years.
We start the series of photo reports from the festival.
Arriving of the Finnish delegation

Opening of the photo exhibition "Terijoki 1930-th" presented by Terijoki community (Helsinki) and Terijoki Fund (Jarvenpaa)
Zelenogorsk Art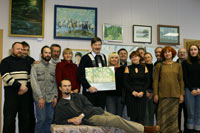 12-th annual exhibition of Zelenogorsk's artists
Foto gallery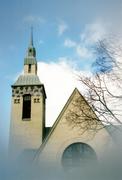 Beautifull photos of lutheran church. Photo album by Marina Popova.
Art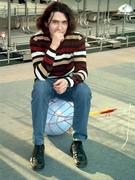 Designer from Zelenogorsk Stas Voronko got the Grand-Prix of the international exhibition "100% design" in Moscow.
Lutheran parish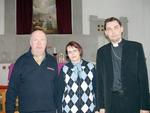 Guests from Jarvenpaa parish.
Foto gallery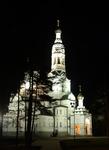 Orthodox Church of Kazan God's Mother Icon. Photo album.